The Ruth Lepper Gardner Home ~ Sketch by Barbara Tapp
Preserving Southport Island's Sense of Place
Set back a bit in time this quiet island is a unique place that has for generations attracted many writers, scientists, and artists as year-round and seasonal residents. But without a plan for sustainable island development, that includes the preservation of historic places, the protection of our woodlands, watersheds and open spaces, and the guarantee of public access to our shoreline, we cannot expect our children or their children to know or experience the natural beauty and unique culture that can still be found in this vibrant island community.
Land for Southport's Future offers a unique approach to the acquisition of land and community resources. The people of Southport Island, Maine are working together, proactively, with their grassroots approach through community engagement and "bottom up fundraising" to purchase and preserve "Ruth's House", as a center for community engagement, a space to host educational opportunities, and a forever access to the nearby shoreline.
Southport Island, Maine was Rachel Carson's summer home and outdoor laboratory from the early 1950's until her death in 1964. In her simple Maine cottage, perched atop the ledge overlooking the Sheepscot River, she wrote "Silent Spring".
As she walked the forest paths and along the rocky shores, Rachel dreamed of one day having this space protected for everyone to enjoy, forever. Rachel and her friend Dorothy Freeman had planned to establish a nonprofit foundation for the preservation of a portion of forested coastline near their cottages.
Land for Southport's Future's grass-roots community initiative to purchase and preserve the Gardner property will honor the legacy of Rachel Carson and all other folks who recognize the need to preserve and protect the natural beauty, and the historical and cultural heritage of this island community, forever.
As Roger (Carson) Christie said, "There is an urgent need to preserve the land on this very precious island, before it becomes overdeveloped. Please save "Ruth's House" now while you can, because if it is sold to a private buyer it is gone, forever."
To the residents and visitors of the Boothbay Region, Southport Island stands out as a town where unique landmarks and treasured spaces have fairly well weathered the changing times. This rural island community has a quaintness, a sense of being as a place where time has stood still and where people can share memories from their childhood still able to stand on the same spot where those memories were first created.
Southport Island is a place that we hold dear to our hearts … your support of the grassroots initiative to purchase the Ruth Gardner Property is needed and gratefully appreciated. Working together we will "Make Ruth's House Happen". The need for your support is URGENT and the timing is NOW! What we make possible today will be here for the generations to follow.
Please support Land for Southport's Future's initiative to purchase and protect our forests and our shoreline, to maintain public access and use of coastal land forever. Your gift is urgently needed and will be gratefully appreciated.
Working together, our gifts will:
• Create a common space for community engagement
• Preserve the historic character and cultural legacy
of Southport Island
• Assure public access and use of Hendricks Head Cove,
for generations to come
Your gifts of support are greatly appreciated … we thank you if you are already on our growing list of over 340 donor households. If you are not yet a donor … now is the time we need to hear from you. If you have shared your support in the past … are you willing to make an additional gift to your community?
Ways to donate NOW to have your tax deductible gift matched:
Check payable to: Land for Southport's Future
P.O. Box 298, Southport, ME 04576
Website "Donate Now" Link
https://landforsouthportsfuture.org
Please call for additional options: 207-217-7743
What does your support mean to your community?
Without the personal resources to purchase the land themselves, most community members can only watch as they lose access to places of significant environmental, cultural, and historical value; the critical aspects of community life that make the Southport and Boothbay Region such a desirable place to visit, to raise a family, and to age-in-place.
With Land for Southport's Future's purchase, the Gardner Property will be held in trust for the benefit of the People of Southport forever. Land for Southport's Future, is the only community supported organization with the mission to preserve Southport Island's "Sense of Place". The people's ownership of this near coastal property will give voice to our citizens to advocate for the protection of our island's land and natural resources, now and for the generations to come.
The role of Land for Southport's Future, a 501(c)(3) nonprofit, is to raise funds to purchase and preserve historically and culturally significant Southport land and resources and to make these spaces accessible to the community. LFSF properties will be owned by a Southport based community entity, not the Town. Property purchased by LFSF will be managed by a community based Board of Directors, allowing the people of Southport to have an ongoing voice in their Island's future.
https://landforsouthportsfuture.org/southport-community/
Click to read the interview with Rachel Carson's nephew, Roger.
Also to read the email from Mac MacKusick regarding the importance of purchasing "Ruth's House"
https://landforsouthportsfuture.org/services/
https://landforsouthportsfuture.org/get-involved/
Land For Southport's Future
Land For Southport's Future is a 501(c)(3) non-profit corporation, created and staffed by Southport residents. Our goal is to establish, through individual tax deductible gifts, a sustainable fund to buy and preserve land on Southport Island for use by the entire community and the generations who follow.
We know that we are not alone in the belief that working together, community members can preserve their local culture and heritage and protect their land and resources from over development.
Land for Southport's Future has the ambitious goal of raising $800,000 for the immediate purchase of the Gardiner property and the initial rehabilitation of the primary public spaces. With your help, this will happen!
Your donations, of any amount, will help us to reach our goal. We encourage you to share with us the responsibility to protect our Island's natural beauty and accessibility for all to enjoy, now and forever.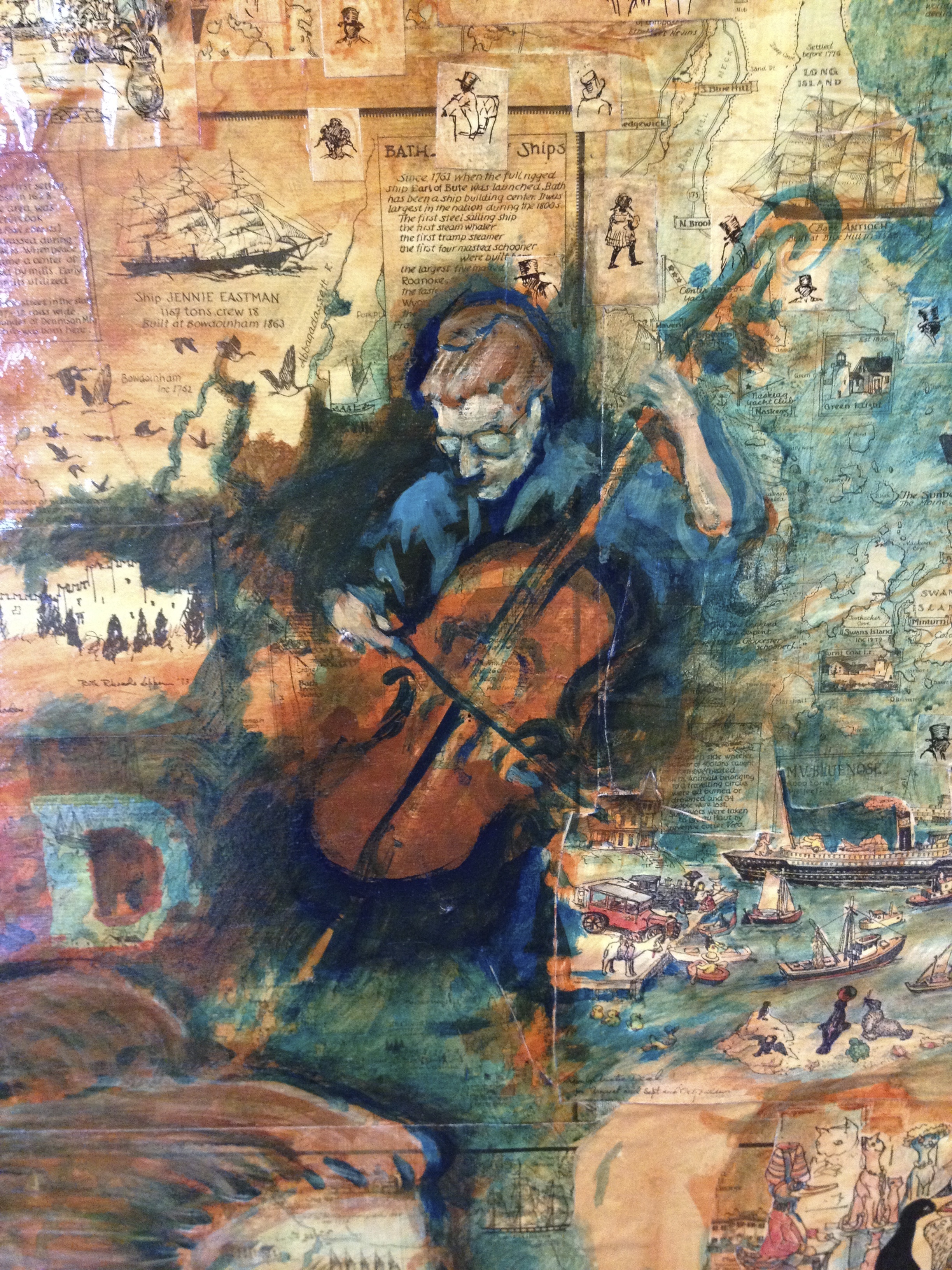 "Ruth playing her cello" Collage by George Workman
Questions?
Give us a call or send us an email. We want to answer your questions. Call: 207-217-7743
Email: landforsouthportsfuture@gmail.com
Join the team
Want to volunteer your time and talents?
Donate Now
Make a tax deductible gift.